How to be
Successful in Your
Arts & Crafts Business
EBook
By David Robertson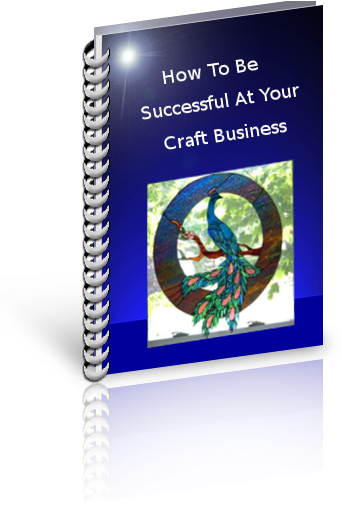 Welcome to the How to be Successful in Your Craft Business Ebook. My name is David Robertson and I have been in the craft business for over 20 years now. Whew, time does fly! I am an artist blacksmith and you can find more information about my specific craft at
My Books and DVD's.

I certainly have made many mistakes along the way, in my craft business. More often or not, have done things the hard way. I have learned a lot and am still learning. The school of hard knocks they call it. Well with this

Craft Business

Ebook I am trying to help crafts-people avoid some of the hard knocks.


Over the years many people helped me out as I was starting my

crafts business

. Whether it was helping to keep my craft booth from blowing away in the middle of the night, or giving me advice on the best way to display items. All was greatly appreciated and this book is a way for me to give a little back to the craft community.

Our crafts are hard enough by themselves. Let alone all the background stuff that goes into a business. My suggestions in the book take into account over 20 years of experience. Many things that I originally opted for doing myself, but later found it was actually more economical to pay people to do.

Crafters and artisans typically try to do everything themselves, after all we are handy people. Our crafts business dictate that we have many skills to make our final products. So it seems only logical that we do everything with our business as well. The truth is that there are many people that have the skills to help us for very little cost.

The topics in the Ebook are not specific to one type of craft but deal with common topics universal to all crafts.

Lets take a brief look at each one of the chapters in the Ebook



Introduction


This gives a brief overview of who I am and the struggles with my craft (blacksmithing) which is not a high demand craft so has to be marketed carefully and ingeniously. I also introduce the concepts covered in the ebook.



Retail


Retail is the back bone of the craft industry. I discuss operating your own retail store, gallery, studio, indoor and outdoor craft shows. I explain how to qualify your customer, and how this can save you time and dollars. Especially at a craft show.



Wholesale


Wholesale is a viable alternative to retail and has much fewer hassles associated with it. You do sacrifice some money to have the reduced problems. I discuss finding and setting up for wholesale trade shows. (This is a very different beast than a retail craft show.)

In this chapter I also discuss consignment which is another type of wholesale. How to avoid losing your merchandise if your consignment store happens to go out of business.



Custom Work


Cutom work is working one on one with the customer to create exactly what they want. You could be making a stained glass piece to fit a space and their decor, or custom wood table, the options are endless. Custom work requires extreme consideration of the customers needs and finances. Contracts are also important to protect you and your customer.

I also discuss what you can do if you recieve a bad check. This refers to the other catagories as well.



Teaching Your Craft


Once you become proficient with your craft you may opt for teaching. This can be both lucrative and rewarding as you help people become proficient working with you medium.



Advertising


Advertising in one form or another is what drives our income. It may be face to face, word of mouth, or an internet presence and many others. Which ones have I found to be right for the crafts market. As a subsection of advertising I discuss in some detail photography and how important it is for your advertising.



Book Keeping


Book Keeping is no-ones favorite job but it is an incredibly important part of your business. I explain how I set up my books and record the items and their various categories. I also describe when and how you should use an accountant. Taxes and keep sanity dealing with the government.



General Tips


These are just a miriad of information I have picked up ove the years that will help you do things faster and more cost effective. It is OK to pay for some things that you would struggle with for hours.


---
We are now in tricky economic times for the craft industry. You might think that crafts are luxury items and are the first things to be cut from the list when people tighten their belts. To some extent this may be true. People will still buy quality because it will last longer. So make sure your craft is the highest quality you can make.

In

How To Be Successful In Your Craft Business

I discuss how to set up a website and marketing your product on the internet. With these economic times this is even more important. You can reach people all over the world, many whose economies are not affected as local economies are.

Now more than ever it is important to have a web presence to promote your craft.



Remember:



---

I have kept the price of the Ebook low so many crafts people can benefit from it.

Clickbank sells our products - they are a trusted online retailer specializing in digitally delivered products. Your credit card statement will show a charge from Clk*Bank.com for $40.00 US.


Limited Time Special Offer!

If you would like to subscribe to my newsletter About Marketing on the Internet. You will recieve my
How to be Successful at
Your Craft Business Ebook

for Only $20.00 US. A 50% discount!



Just sign up below and you will be taken to discounted Purchase Page once you click on your varification link
sent in an email to you.


You will need Adobe Reader to veiw the document in its pdf format. Adobe reader is a free download and can be obtained here.

After you have a copy of Adobe Reader you will easily be able to view the document and save it to a location on your computer. The file is about 160 kb in size and download time will vary with your connection speed. I live in the country with only dial up available and it takes me less than a minute to download it. Of course with high speed it will only be a few moments.





To Order
How To be Successful In Your Craft Business
For Full Price Of $40.00 US
Special Limited time discount $20.00 US
(Craft show season is approaching and I want to help!)



===>

Click Here Now!

<===





Thank-you for your interest in developing the business of your craft.
David Robertson
Artist Blacksmith

P.S.
If you are interested in craft shows in the United States and Canada. Take the time to check these sites out!



More Informational Products to Help Your Business



Fairs and Festival Vendor Calendar for United States

Canada Fairs and Festivals

Craft Show Success Secrets
Help Your Business Here
---
Visit Online Income Blog Here!


---
Ontario Artist Blacksmith
---
Privacy Statement
---
Home
---